North Turramurra Skins Golf
Round 14: Lockdown Continues
24th July:
No skins played with the Sydney Covid-19 lock-down still in place.
---
Round 13: No Skins Played
10th July:
Following the recent changes to the Covid-19 restrictions this skins round could not go ahead.
Rules of the Round:
COVID-19 Rules at North Turramurra.
To comply with new NSW Health orders the following rules are in place.
Golf can only be played in groups of two.
You can only visit the Course if you live in the Ku-ring-gai Local Government Area or if you live within 10kms of the course.
Face masks must be worn at all times inside the Proshop.
---
Round 12: Craig Takes a Narrow Win
26th June: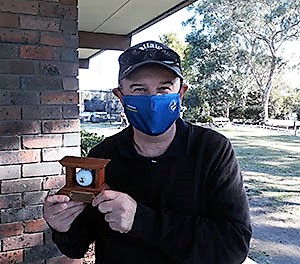 Trophy Presentation
The skins competition was very close today despite some poor stableford scores.
PeterD had managed to take some skins overcoming his low handicap but not enough to get ahead of Craig. With 3 holes to go Craig led the others by three.
PeterH grabbed both the 16th and 17th and the win to Craig was not settled until PeterD took the 18th skin.
The Nth Turramurra competition was single and 2B aggregate stableford. The individual winner scored 41 points and the 2B winners scored 80 points.
Individual Stableford Scores
[Name (hcap) Points Skins]:
Craig (22) 24(7+17) 7 skins
PeterH (19) 22(9+13) 6 skins
PeterD (9) 32(13+19) 5 skins
Remaining 0 skins.
2B Aggregate Stableford Scores:
PeterD & Craig 56
PeterD & PeterH 54
Birdies:
10th (par 4): PeterD.
Longest drive (13th hole):
PeterD with a 225m drive.
Nearest to the pin (15th hole):
Craig with a tee shot to 3.5 ccs.
Interesting Shots:
The interest in today's round was the number of wiped holes: 6 for Craig and 7 for PeterH. Only 1 for PeterD. PeterH managed to set a record with OOB tee shots on the 4th, 5th and 8th.
Rules of the Round:
Rule 16 - Relief from Abnormal Course Conditions (Including Immovable Obstructions), Dangerous Animal Condition, Embedded Ball
Purpose of Rule: Rule 16 covers when and how you may take free relief by playing a ball from a different place, such as when you have interference by an abnormal course condition or a dangerous animal condition.
These conditions are not treated as part of your challenge of playing the course, and you are generally allowed free relief except in a penalty area.
You normally take relief by dropping a ball in a relief area based on the nearest point of complete relief.
This Rule also covers free relief when your ball is embedded in its own pitch mark in the general area.
Conditions:
The course was still damp after the recent rain with casual water relief required a number of times. The weather was fine and cool with wind at times.
---
-Calendar-
Aug 07 - to be announced
Aug 21 - Nth Turramurra
Sep 04 - Nth Turramurra
Sep 18 - Nth Turramurra
Oct 02 - Nth Turramurra
Oct 16 - Nth Turramurra
Oct 30 - Nth Turramurra

The 2021 Season
Next Match
The next skins was scheduled for Saturday 7th August. The match will only take place if the NSW Health Department Covid-19 restrictions are eased.
​
Return to Top
---
Championship Scores after Skins Round 14: 24-Jul-2021.
2021 Championship Points
Craig
David
Kim
Mark
PeterD
PeterH
Sujay
Remaining
Unplayed
2021 Longest Drive
Craig
David
Kim
Mark
PeterD
PeterH
Sujay
No winner
Unplayed
2021 NTP
Craig
David
Kim
Mark
PeterD
PeterH
Sujay
No winner
Unplayed
Return to Top
---
The New Rules of Golf - Effective 1st January 2019
You can find a new rules flyer from Golf Australia in this PDF file and a new rules poster in this PDF file.
The Main Changes
1. New dropping height.
All drops must be from knee height.
2. New dropping procedure.
Ball must land in and come to rest in relief area.
3. Time reduced for search.
Ball is lost if not found within 3 minutes.
4. Putting with flagstick in.
Hitting unattended flagstick in hole now allowed when putting.
5. Spike mark repair on green.
Repair of almost any damage to green now allowed.
6. Ball or ball-marker moved on green.
No penalty for accidental movement of ball or ball-marker on green.
7. Ball accidentally moved while searching.
Replace ball with no penalty.
8. Loose impediments in bunker or penalty area.
Removal of loose impediments in bunker or penalty area now allowed.
9. Touching Line of play on green.
Touching line of play on green now allowed.
10. READY GOLF.
(in Stableford, Stroke Play, Par)
The new rules actively encourage Ready Golf.
---
Social Handicaps
Date: 31st-December-2019.

Visitors = 7898