North Turramurra Skins Golf
Round 23: Rain.
27th November:
Three hardy skins golfers showed up ready to play, took a look at the rain, the wind and the flooded greens; then quickly ordered coffee and resorted to chatting in the pro shop.
---
Round 22: Course Unavailable for Skins
13th November:
The North Turramurra Club Championship is played on the two Saturdays 13th and 20th November. This means that the 13th November Skins round is cancelled.
---
Round 21: A Rare Win for PeterD
30th October: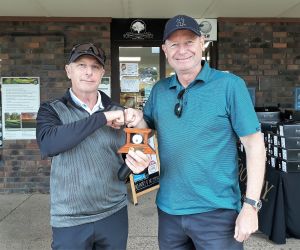 Trophy Presentation
Usually we have many complaints from PeterD about the injustice of the Skins competition. These complaints are starting to fade now with this first win since August 2019.
The Nth Turramurra competition was single and 2BBB stableford. A field of 114 played in the mens competition. The individual winner scored 41 points and the 2B winners scored 52 points.
Individual Stableford Scores
[Name (hcap) Points Skins]:
PeterD (9) 38 12 skins
PeterH (20) 34 5 skins
Craig (23) 33 1 skin
Mark (20) 30 0 skins
Kim (15) 29 0 skins
Steve (24) 27 0 skins
Remaining 0 skins.
2BBB Stableford Scores:
PeterD & Kim tba
PeterD & Mark 42
Peterh & Craig 44
PeterH & Steve 37
Birdies:
5th (par 3): PeterH.
Longest drive (13th hole):
Kim with a 243m drive.
Nearest to the pin (15th hole):
Craig with a tee shot to 7 ccs.
Interesting Shots:
Craig had an adventurous hole 6. It was a good drive to the centre of the fairway, but the approach shot was long and wide to the shrubs on the hill. Once the ball was found he chipped to a metre or so from the flag and walked to the spot. No putter, just an 8 iron, so Craig decided to putt out with the back of the iron for a par and scored 4 points.
Rules of the Round:
Provisional Ball & the Out of Bounds Local Rule
If you hit your ball out of bounds or lose it (you have three minutes to search for your ball before it becomes lost), your only option is to go back to the spot of your previous stroke to play under stroke and distance.
The only exceptions to this are if your ball is lost in a penalty area (when you can use any of the penalty area relief options) or lost in an abnormal ground condition or in an obstruction.
A final exception is when a new Local Rule which provides an alternative to stroke and distance relief is in effect.
This Local Rule is recommended for casual play and not for competitions involving highly-skilled players. If it is in effect, for two penalty strokes, you can estimate the spot where your ball is lost or went out of bounds and then find the nearest fairway edge that is not nearer the hole than the estimated spot. You can drop a ball in the fairway within two club-lengths of that fairway edge point, or anywhere between there and the estimated spot where your ball is lost or went out of bounds.
If you think that your ball might be out bounds or that you might not find it, you can play a provisional ball to save time. You must announce that you are playing a provisional ball before doing so.
If you are then unable to find your original ball, or you find it out of bounds, your provisional ball is your ball in play under stroke and distance, and you don't have to take the time to walk all the way back to the spot of your previous stroke.
Conditions:
Mostly overcast with wind at times.
---
-Calendar-
Dec 11 - Xmas Round Nth Turramurra

The 2021 Season
Next Match
The next match is the traditional Christmas Round on Saturday 11th December. Craig has booked two tee times for us (8:47AM and 8:44AM).
The playing rules will be set by Stix as usual. Some players may want to lobby for their favourite playing conditions.
The anticipated starting list is Craig, Kim, Mark, PeterD, PeterH, Steve and Sujay.
​
Return to Top
---
Championship Scores after Skins Round 23: 27-Nov-2021.
2021 Championship Points
Craig
David
Kim
Mark
PeterD
PeterH
Steve
Sujay
Remaining
Unplayed
24
2
20
39
34
58
0
35
4
198
2021 Longest Drive
Craig
David
Kim
Mark
PeterD
PeterH
Steve
Sujay
No winner
Unplayed
2021 NTP
Craig
David
Kim
Mark
PeterD
PeterH
Steve
Sujay
No winner
Unplayed
Return to Top
---
The New Rules of Golf - Effective 1st January 2019
You can find a new rules flyer from Golf Australia in this PDF file and a new rules poster in this PDF file.
The Main Changes
1. New dropping height.
All drops must be from knee height.
2. New dropping procedure.
Ball must land in and come to rest in relief area.
3. Time reduced for search.
Ball is lost if not found within 3 minutes.
4. Putting with flagstick in.
Hitting unattended flagstick in hole now allowed when putting.
5. Spike mark repair on green.
Repair of almost any damage to green now allowed.
6. Ball or ball-marker moved on green.
No penalty for accidental movement of ball or ball-marker on green.
7. Ball accidentally moved while searching.
Replace ball with no penalty.
8. Loose impediments in bunker or penalty area.
Removal of loose impediments in bunker or penalty area now allowed.
9. Touching Line of play on green.
Touching line of play on green now allowed.
10. READY GOLF.
(in Stableford, Stroke Play, Par)
The new rules actively encourage Ready Golf.
---
Social Handicaps
Date: 31st-December-2019.

Visitors = 11752