North Turramurra Skins Golf
Round 17: Rain, Breeze and Coffee
3rd September:
The day delivered steady rain with occasional heavy showers and a fresh breeze.
Some optimistic skins golfers gathered for coffee and a chat before departing empty handed.
Weather: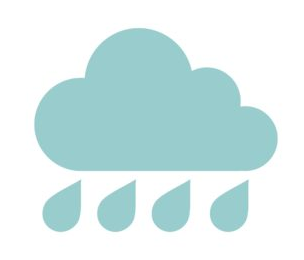 ---
Round 16: Skins Cancelled
20th August: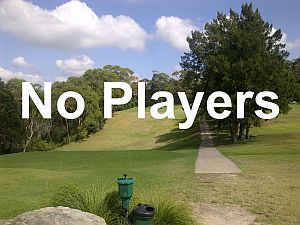 No skins play possible for 20th August due to lack of players.
---
PeterD Takes Castle Hill Handiskins
17th August: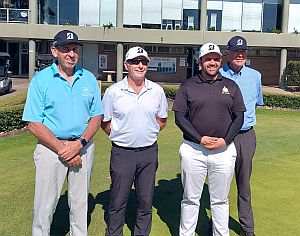 Handiskins Finalists
This year PeterD entered the Castle Hill Handiskins tournament and the top four made it into the final held on Wednesday 17th. You can read all about it on the Handyiskins Castle Hill site.
Peter started slowly but was quietly confident with years of experience in the tough NT Skins competition. As we all know, skins trophies are won on the back nine! He went on to win seven skins on the 12th and followed with two skins on the 15th.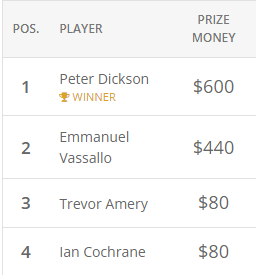 ---
Round 15: A Second Steve Success
6th August: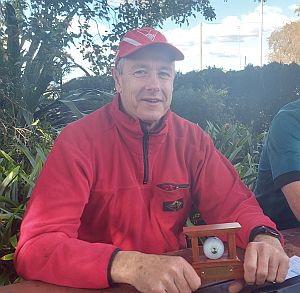 Round 15 Winner
Steve's good form continues with 6 skins won by the 8th hole and he could not be caught despite the best efforts of PeterD. Steve is lately making a habit of overcoming PeterD in close contests. Craig played well and led our stableford scores in addition to winning the B grade stableford prize.
The course was much drier than the previous round and we enjoyed the helpful blue lines provided to show the preferred pathway on the fairways.
The Nth Turramurra competition was single stableford and 2BBB as usual. The A Grade winner scored 38 points and B Grade winner was Craig with 33 points.
Stableford Individual Scores
[Name (hcap) Points Skins]:
Steve (28) 27 6 skins
PeterD (6) 32 5 skins
Craig (23) 33 3 skins
PeterH (20) 30 2 skins
Mark (20) 20 2 skins
Remaining 0 skins.
2BBB Stableford Scores:
PeterH & PeterD 41
Mark & Steve 36
Mark & Craig 36
Birdies:
5th: PeterD
10th: PeterD
15th Mark after taking the NTP award.
Longest drive (13th hole):
PeterH with a tee shot of 199m.
Nearest to the pin (on the usual 15th):
Mark with a tee shot to 5 mbs.
Interesting Shots:
The tee shot on the 4th tee by PeterH: PeterD called it the shot of the year!
The ball travelled forward, almost clearing the hazard in front of the tee, it struck a rock hidden in the long grass, rebounded to the right, landed on the pathway, bounced to the back of the teeing area, struck one of the sandstone blocks, and finally stopped at the rear of the tee. The result was a loss of 10 metres.
On the par three 16th, Mark reached the green before discovering that he had played a wrong ball.
Conditions:
The weather was sunny and breezy. Some fairways were waterlogged and the preferred path was marked with a blue line. For this round, hole 6 was out of play with 2 stableford points awarded.
Rules of the Round:
Rule 6.3 Ball Used in Play of Hole
c. Wrong Ball
You must not make a stroke at a wrong ball.
In match play:
If you and your opponent play each other's ball during the play of a hole, the first to make a stroke at a wrong ball gets the general penalty (loss of hole).
If it is not known which wrong ball was played first, there is no penalty and the hole must be played out with the balls exchanged.
In stroke play:
you must correct the mistake by continuing play with the original ball by playing it as it lies or taking relief under the Rules:
The stroke made with the wrong ball and any more strokes before the mistake is corrected do not count.
If you do not correct the mistake before making a stroke to begin another hole or, for the final hole of the round, before returning your scorecard, you are disqualified.
Penalty for Playing Wrong Ball: General Penalty.
General Penalty means: Loss of hole in match play or two penalty strokes in stroke play.
---
-Calendar-
Sep 17 - Nth Turramurra
Oct 01 - Nth Turramurra
Oct 15 - Nth Turramurra
Oct 29 - Nth Turramurra
Nov 12 - Nth Turramurra
Nov 26 - Nth Turramurra
Dec 10 - Xmas Round Nth Turramurra

The 2022 Season
Next Match
The next match is booked for Saturday 17th September. The first tee time will be around 09:00.
Possible starters are: Craig, Kim, Mark, PeterD, PeterH, Steve and Sujay.
​
Return to Top
---
Championship Scores after Skins Round 17: 03-Sep-2022.
2022 Championship Points
Craig
David
Kim
Mark
PeterD
PeterH
Steve
Sujay
Remaining
Unplayed
21
0
19
17
34
22
28
14
7
162
2022 Longest Drive
Craig
David
Kim
Mark
PeterD
PeterH
Steve
Sujay
No winner
Unplayed
2022 NTP
Craig
David
Kim
Mark
PeterD
PeterH
Steve
Sujay
No winner
Unplayed
Return to Top
---
The New Rules of Golf - Effective 1st January 2019
You can find a new rules flyer from Golf Australia in this PDF file and a new rules poster in this PDF file.
The Main Changes
1. New dropping height.
All drops must be from knee height.
2. New dropping procedure.
Ball must land in and come to rest in relief area.
3. Time reduced for search.
Ball is lost if not found within 3 minutes.
4. Putting with flagstick in.
Hitting unattended flagstick in hole now allowed when putting.
5. Spike mark repair on green.
Repair of almost any damage to green now allowed.
6. Ball or ball-marker moved on green.
No penalty for accidental movement of ball or ball-marker on green.
7. Ball accidentally moved while searching.
Replace ball with no penalty.
8. Loose impediments in bunker or penalty area.
Removal of loose impediments in bunker or penalty area now allowed.
9. Touching Line of play on green.
Touching line of play on green now allowed.
10. READY GOLF.
(in Stableford, Stroke Play, Par)
The new rules actively encourage Ready Golf.
---
Social Handicaps
Date: 31st-December-2019.

Visitors = 19830